Marvaco achieves the Full HD Flexo certificate
publication date: 2013/08/15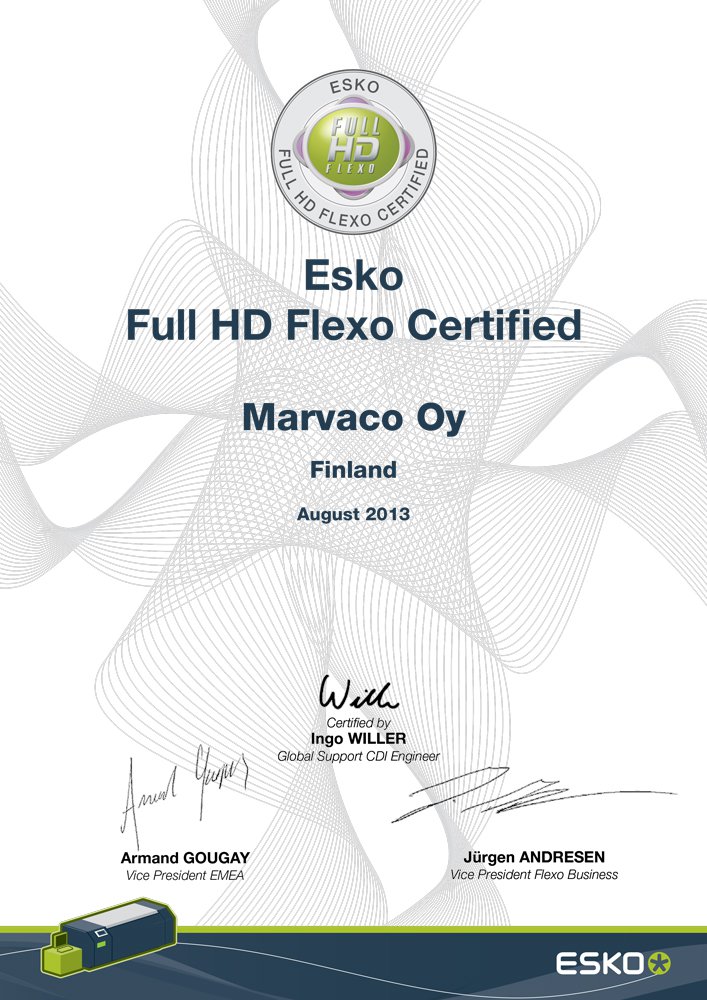 Marvaco, the forerunner of Scandinavian packaging pre-press houses, has achieved a coveted packaging print world Full HD Flexo -certificate. The certificate is granted by Esko. Previously, only two other operators in the world have achieved this merit. The Marvaco certificate is the first in the Nordic Region.
Full HD Flexo is new technology. Last spring Esko supplied Marvaco an Inline UV2 exposing unit enabling Full HD Flexo. This yields, better highlight control, advanced color strength and smooth transitions to zero. Also image sharpness is even better than with conventional HD Flexo.
Marvaco, together with customers, has done a significant amount of work to enhance printing quality with conventional HD Flexo, and it has become a quality standard in this sector. The Finnish Flexoindustry has achieved in international comparison a highly considered position. Finland has the most HD Flexo -certificates worldwide. Finland has 21 certificates, which of Marvaco together with its customers have 16 certificates.
Full HD Flexo criteria to obtain the certificate are qualitywise increasingly demanding. The qualification process takes time, because the criteria requires several separate print sample evaluations. Marvaco has begun the qualification of Finnish printhouses to maintain a high position at international development.
Additional info: Tomi Havia: GSM +358 50 427 7613